At BlueWild we're an easy going crew, dedicated and enthusiastic to ensure that you experience Scottish natural heritage and marine wildlife at its most dramatic.
Alan Stewart, Director & Skipper.
Alan is a marketing and corporate communications professional whose diverse international experience spans global corporations, award-winning start-ups, government agencies and he is a visiting lecturer at Edinburgh Business School in Heriot Watt University.
He is an RYA Advanced Commercial skipper, Yachtmaster, Powerboat and Safety Boat Instructor; volunteer sea-staff with Ocean Youth Trust Scotland and a member at East Lothian Yacht Club.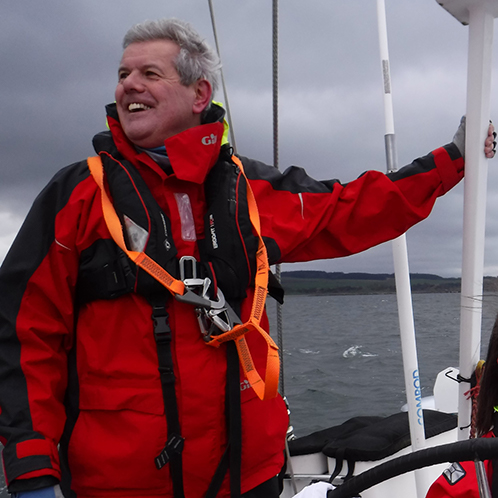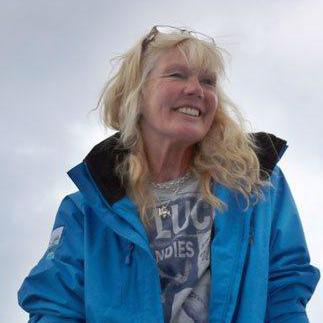 Maggie Sheddan, Head Guide.
Maggie is the most well-known marine tour guide on the Forth and is widely respected for her constant dedication to marine life protection, volunteering, educating young people and commitment to tour guiding over many years. Maggie has hosted some of the world's most famous naturalists including Sir David Attenborough, Chris Packham, Bill Bailey, BBC presenters from Landward, The One Show and Coast programmes as well as The National Geographic magazine on the Bass Rock, Isle of May and smaller Islands.
She is involved year-round in wild-life monitoring and animal welfare and was the main instigator for the now famous 'SOS Puffin' conservation programme on Craigleith. Maggie is a WiSe qualified guide, a Marine medic, a member of IOMBO since 2003 and has been involved with the SOC and RAFOS for many years.
BlueWild is owned Jack, Tommy and Robbie Dale, and Alan Stewart.
Since 1834, the Dale family have farmed at Auldhame overlooking the Bass Rock and fished from nearby Seacliff. The family now run businesses intimately connected with environmental conservation, resource management, recycling and sustainable fishing including the famous Lobster Hatchery at North Berwick.
Jack and Sam Lowe are both experienced lobster fishermen with intimate knowledge of local waters and both occasionally skipper with BlueWild.
Our boat – BlueWild 'Thalassa'
BlueWild's tour boat is a Redbay Stormforce 8.4 Expedition Rigid Inflatable Boat (RiB). Redbay has a reputation for manufacturing robust, high powered sea-going boats and 'Thalassa' underwent a major refit for the 2020 season.
Thalassa has a compact and spacious cabin fitted with air sprung shock mitigation seating which add a higher level of comfort and safety than traditional fixed seating. Passengers can move between the cabin and outside seating whilst onboard.
Specification:
Licenced to carry 2 crew and 10 Passengers in daylight or 6 passengers in darkness hours.
Ullman air-sprung shock-mitigation seating inside and marine bench seats on deck.
8.4 meters length
315hp Internal Yamaha engine
Auxiliary Honda 10 hp outboard engine
Maritime & Coastguard Agency coded for Category 3 waters up to 20 miles offshore.